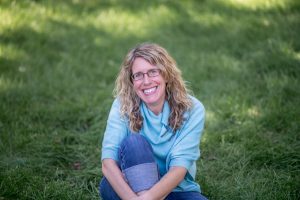 Julie Segal-Walters is a children's book author who lives in Washington, D.C. with her family, and a pesky cat.
Before becoming a writer, Julie was the president and founder of Civic Action Strategies, a grassroots organizing and democracy development consulting firm. She worked in Kosovo, where she directed citizen engagement programs for U.S. and European organizations. Julie is a lawyer and former Congressional lobbyist for civil rights and civil liberties, and political consultant.
She is fluent in Spanish, has appeared as a commentator on Court TV, C-Span, NPR, and Univision, and taught courses at American University in lobbying and public policy advocacy. She can now be found advocating for her many favorite children's books to anyone who will listen. Julie also attended culinary school and spends most of her spare time browsing her cookbook library and cooking for family and friends. Julie does not bake. She thinks baking is too hard and has too many rules.
Julie is a founder and member of Picture the Books, a group of writers and illustrators with picture books debuting in 2017.
THIS IS NOT A NORMAL ANIMAL BOOK is her first picture book.
Most Frequently Asked Questions (FAQs)

Q: Why have you had so many jobs?
I've been very lucky to have a lot of interests and a lot of opportunities in my career. All of my jobs have one thing in common, though. They all help people have a better life. Whether I'm cooking healthy food, or lawyering against discrimination, or lobbying for freedom of religion, or teaching about democracy, or writing books that make kids smile and help them see themselves and their place in the world, every job I've had helps people live free, tolerant, healthy, and happy lives.
Q: Where are you from?
I'm from Indianapolis, Indiana, but I've lived in Washington, D.C. for more than 25 years.
Q: What are your favorite books?
When I was a kid, my favorite picture book was Andrew Henry's Meadow, and my favorite novel was From the Mixed-Up Files of Mrs. Basil E. Frankweiler. I still love those books! I have bunch of newer favorites now. Have you read the picture books The Rooster Who Would Not Be Quiet, Duck on a Bike, Bark, George, The Three Ninja Pigs, BunnyBear, Neville, or Last Stop on Market Street? What about the middle grade novels Echo, When You Reach Me, or Holes? If you haven't, you really should!
Q: What is your cat's name?
My cat's name is Lego. We got him when my child was 6 years old. Can you guess who named him?
Q: What is your favorite word of all time?
Oh, good question! My favorite word of all time is definitely, "Mama."
Q: What is your favorite thing to do when you're not writing?
I LOVE to be outside in nature! It's my most favorite thing in the world.
Hmmm, now that I think about it, maybe I should live in the woods instead of in a city. Oh well.
Q: So, what is a gerenuk?
Ah! This is a gerenuk!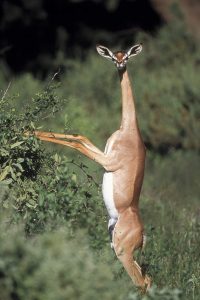 Q: What else should we know about you?
I'd like for you to know how grateful and honored I am that you're reading my books. Thank you so much! I hope you like them!
You can also read an interview about my writing journey here and on KidLit411!